*

************************* UPDATE 9 December 2017 20:05 ******************************************************




See above

Lots of calls coming in and website hits - Sunday should be a great day - and the weather promises to be ideal - don't forget it's a little cooler here than in Adelaide .

I've fenced off the only area in the car park where anyone is likely to get bogged so there should be plenty of room. No need to come early (but do come before 5pm) - despite our being the latest block in the district (hence probably the latest block on the whole mainland) the whole of the main crop is pretty well ripe now.

BTW many thanks to the gentleman (I use the term advisedly) with the black 4WD who helped people out last year. We can pull anyone (as long as you don't come in a tank) out of almost anything with the tractors but that saved us a lot of work and saved the people affected a lot of delay. Many thanks for that.


************************************************************************************
Trains-wise (this is much more important)
. Almost forgot - there is some news - the train tracks have been extended to include a shuttle train which climbs the hill to Santa's grotto - automatically controlled to go back and forth - and an extension to the normal tracks so that they meet it at a station - and stop and wait automatically.

But wait - there's more.

Not just state-of-the-art electronics ($2.50 on Ebay - postage incuded) - there's local history too. Part of the gradient is supported by:

* A wooden cherry half-case of the type traditionally used around here - similar to what Tom Playford's statue at Norton Summit is holding under his arm.

* A sleeper (cut up - I hope this is not choo-choo-geek sacrilege) from the old Ghan track - the 3'6" gauge track that used to go to Alice Springs before it was replaced with the current standard gauge one.
************************************************************************************

There's a video of this year's train here

==========================================================
To avoid confusion for new customers, here's what our frontage looks like. It's on the right hand side 760 metres up the road.
And you drive down the gumtree lined driveway shown here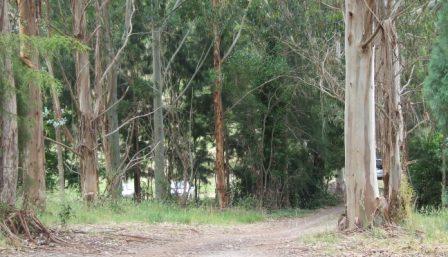 to our car park and sheds.
You may sometimes find other signs for PYO Cherries before you get to us - that's not us. Nowhere else will you get the same quality for the price as here. That's what we're renowned for.
-----------------------------------------------------------------------------------------------
Hours are 10:00am - 6:00pm but you need to come before 5:00pm to allow time to do it. Unless you can pick as fast as this guy that is.
NB the sour cherries which we sell are not under-ripe sweet cherries - they are small and always sour and intended for cooking etc. See our recipes page.

For most people it takes between 30 minutes and 1 hour to fill a 5kg bucket with sour cherries. These machines do it a bit quicker.


====================================================================================


Don't forget that the best dessert at this time of year is Cherry Clafoutis. It's easy to make and if you do it the French way you don't even need to pit the cherries.

See our
Recipes page (click here)
for these and other great cherry recipes.
It always pays to check this page or the phone message on 08 8389 8500 to be sure before driving up.