*

************************* UPDATE 17 November 2018 11:20 ******************************************************




See above


************************************************************************************
Trains-wise (this is much more important)
. The shuttle train which climbs the hill to Santa's grotto - automatically controlled to go back and forth - has been replaced with a
kitbashed
open tramcar (all wheels powered!). Many of the passengers have a remarkable resemblance to Harrison Ford. Rumours that this is because action figures are the cheapest way to get figures in this scale are completely without foundation.

But wait - there's more.
The station stop which needs somone to press a button now has a timer which will set the train going even if the button isn't pressed. The button still works and can be pressed to override the timer if you get tired of waiting.

************************************************************************************

There are videos of the train set as it has evolved over theyears here

==========================================================
To avoid confusion for new customers, here's what our frontage looks like. It's on the right hand side 760 metres up the road.
And you drive down the gumtree lined driveway shown here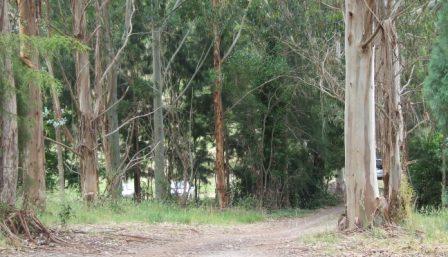 to our car park and sheds.
You may sometimes find other signs for PYO Cherries before you get to us - that's not us. Nowhere else will you get the same quality for the price as here. That's what we're renowned for.
-----------------------------------------------------------------------------------------------
Hours are 10:00am - 6:00pm but you need to come before 5:00pm to allow time to do it. Unless you can pick as fast as this guy that is.
NB the sour cherries which we sell are not under-ripe sweet cherries - they are small and always sour and intended for cooking etc. See our recipes page.

For most people it takes between 30 minutes and 1 hour to fill a 5kg bucket with sour cherries. These machines do it a bit quicker.


====================================================================================


Don't forget that the best dessert at this time of year is Cherry Clafoutis. It's easy to make and if you do it the French way you don't even need to pit the cherries.

See our
Recipes page (click here)
for these and other great cherry recipes.
It always pays to check this page or the phone message on 08 8389 8500 to be sure before driving up.